Google Tag Manager (GTM) - Walkthrough for beginners
Updated: Dec 4, 2021
Google tag manager for beginners
Google tag manager or GTM is a brilliant and indispensable tag management solution, straight from the best problem solving engineers at Google.
It is Quick, Fast, Efficient, user-friendly, intuitive & economical (free to use).
Here is a simple guide to quickly install GTM and deploy tags.
Disclaimer : The focus of this walkthrough is on doing things right for someone who is probably doing it for the first time, so if this sounds like you, please read ahead. If you want to learn advance GTM strategies and implementation, Links are at bottom of page.
Before we begin, you should know that GTM is organized as per the following hierarchy
Account - The name of a main account. Each account represents a business . If you have a single website for your business, create the account by that business name or that of the website. However, if you have a business with multiple websites, use the name of the business rather than websites

Container - Each container represents a website, app or server.

Tag - A tag is a code provided by analytics, marketing, and support vendors to help you integrate their products into your websites or mobile apps. It is implemented into your website by tag manger.
Google Tag Manager - account structure
Installation
Step 1: Sign in to your google account, if you do not have one, then log in.

Step 2: Go to https://tagmanager.google.com/

Step 3: Click on create an account on the top-right corner
Create account - Google Tag Manager
Step 4: The following page should show up Fill in the account name (this should be the business name), the container name (this should be the website name) & the target platform (for a website, this is web). For the sake of simplicity, we shall only select web. Click on create
Google Tag Manager - Fill details & Choose Platform
Step 5: Agree to the Terms of service(after reading through) and post that, you will see a snippet page like the one shown below. Share this with your developer, instruct them that this snippet should be on each and every page. They should be able to do the rest for you. Share this page for details as well - https://developers.google.com/tag-platform/tag-manager/web
Google Tag Manager - Accept & Installation Guide
Congratulations! Your installation is complete.
Verification
Step 1: Click on preview. A pop up window should open up like the one shown below. Enter your website and click connect.
Google Tag Manger - Verifying Installation
A new window should pop up from your browser where you can see data on your google tag manager panel.
Google Tag Manager - Checking the console & tags
Browse the whole website and see the data populate. The window should react to every page. In case it does not, Google tag manager is not installed and you should get in touch with your developer.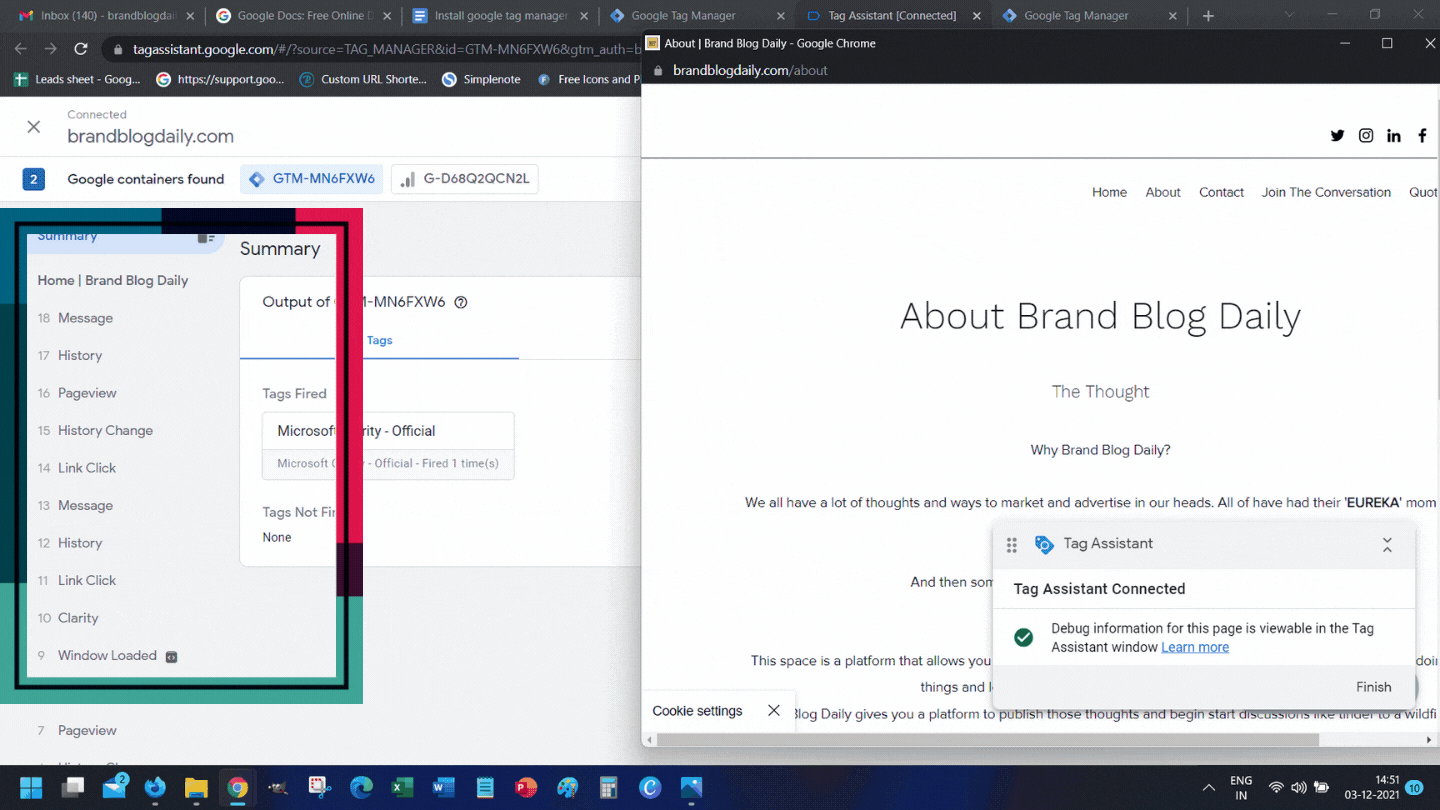 Google Tag Manager - Browse & Verify each page
Your Google Tag Manger is now Verified.
Tag Installation
As an example, we shall install the most common third party tool that you will probably install now : Google analytics.
Copy your Google Analytics code (know how to get one) and paste it on a notepad.

Open the GTM and click on "Add a new tag". A popup should open

Give the tag a name, for this tutorial we shall call it "Google Analytics"
Google Tag Manager - Add your first google analytics tag
Add on tag configuration.

Select the google analytics configuration (make sure it is the same as one done when you set up google analytics)
Google Tag Manager - Choose the right GA tag
Enter the code from your notepad. Based on your google analytics configuration, it could be called a google analytics tracking id or measurement id.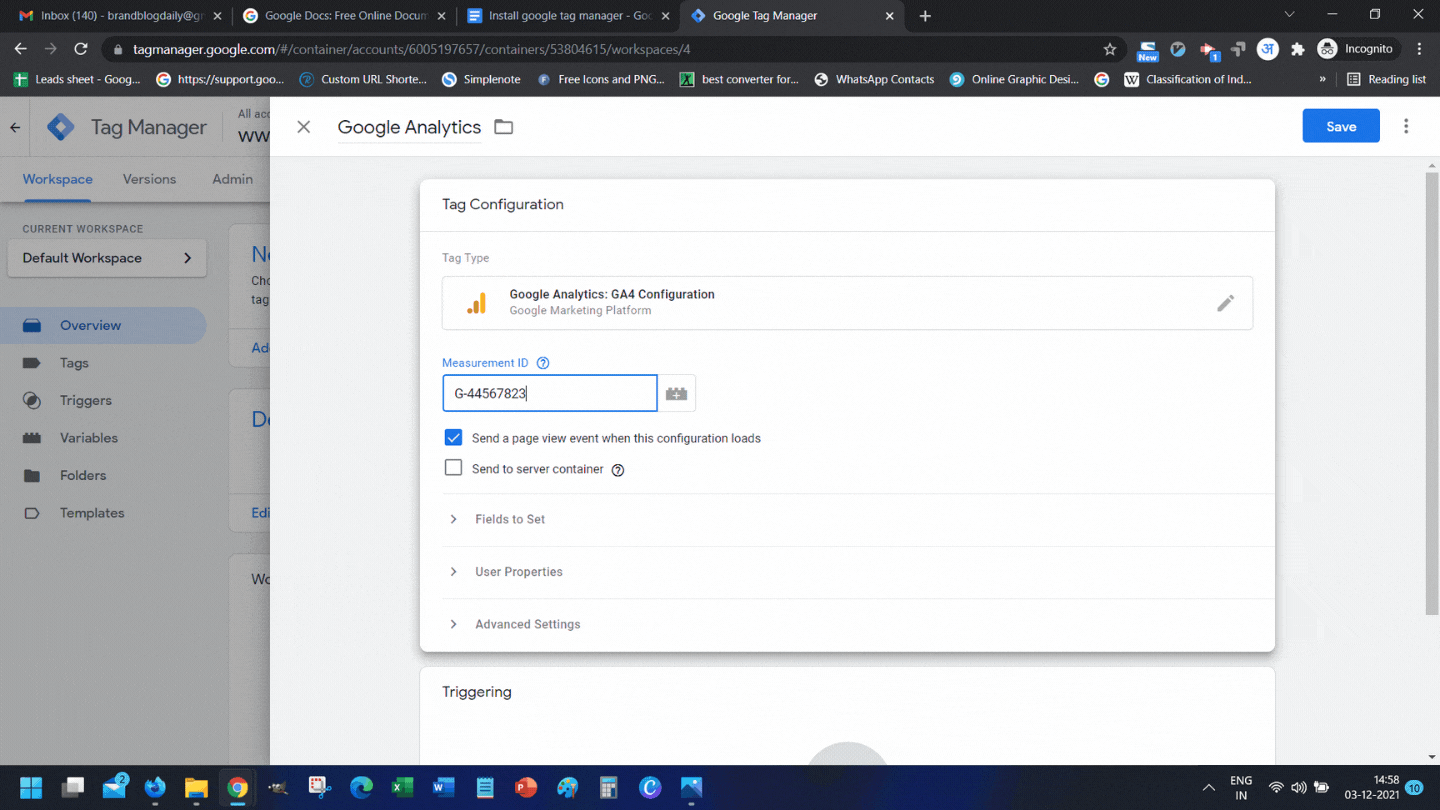 Google Tag Manager - Insert you GA ID/Measurement ID
Scroll down to trigger

Click on it and a window should open up with a few default options.

Click on all pages and click on save, the window should close.
Google Tag Manager - Add the triggre to google analytics tag
On the main screen, click on save and another window should pop up

Click on publish
Google Tag Manager - Save and publish changes
A description window will open up. This part is used to document changes when multiple people work on same account or to better organize you changes. It can be skipped.
Google Tag Manager - Add a description
You will see a summary screen and voila, your tag is published.
Google Tag Manager - Implementing Changes
Your implementation should now be live.
Installing google tag manager is one of the basics of setting us a basic digital ecosystem for your website.
Now, if you are looking for advanced google tag manger implementation and tutorials, I have some excellent resources in store for you
Measured School - This is probably the best channel for learning google tag manager . Period.

Optimize Smart - Their blog has some of the solutions unique to them. A no brainer, must-follow.

Google Tag Manger Fundamentals by google - Nothing to explain, read the title again.
I have more references but the above two should give you enough learning for 2-3 years at least.
Hope that this small walk-through guide was helpful. Do let me know if I missed out on something or if things could have been explained better.
Over to you.